Welcome to CanShine Cleaning Company
The Best Cleaning Services
in Lower Mainland!
Cleaning is one of the most exhausting tasks after a stressful day and leaves you with no other option than maintaining your space for a healthy environment. Therefore, we at Can Shine are here to take up the hassle of cleaning your area so that you can make the most out of your precious time. Can Shine is one the most trusted and reliable cleaning services in Lower Mainland that strives to provide you with the desired pristine environment at an affordable price. We endeavor to deliver the best services with our team of experts.
As a leading cleaning services provider in Lower Mainland, Can Shine offers various services that meet all your cleaning needs. Our experts are available 24/7 to assist you in choosing the apt service to clean every nook and corner of your space and ensure exceptional results.
Our Best Cleaning
Services
CanShine is one of Lower Mainland top cleaning services providers. We offer a diverse range of services to meet your everyday cleaning needs.
Commercial Cleaning Service
CanShine is the best choice for your commercial cleaning needs in Lower Mainland. Our cleaning professionals provide more effective cleaning services to businesses of all sizes, guaranteeing a clean and healthy work environment.
As a premier Lower Mainland cleaning company, we employ eco-friendly materials and cutting-edge procedures to clean and sterilize every nook and corner of your workstation. You can rely on CanShine's commercial cleaning services to maintain a clean, tidy workplace that boosts productivity and projects a professional image.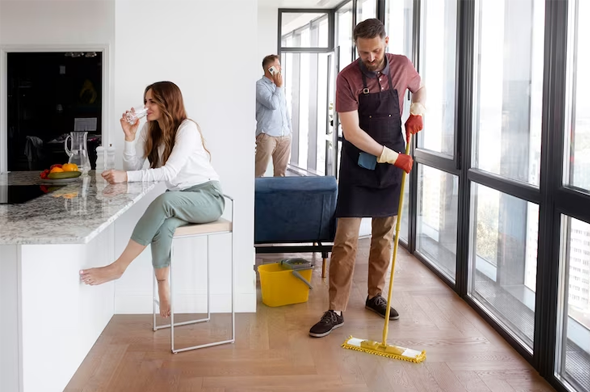 Residential Cleaning Service
CanShine is your one-stop shop for all your Lower Mainland cleaning service needs, whether you require regular house cleaning or a one-time deep clean. We provide comprehensive residential cleaning services tailored to your specific requirements. Our dedicated professionals use effective cleaning techniques and eco-friendly products to ensure your home is spotless and free of harmful bacteria and allergens. Experience the difference that the best cleaning services in Lower Mainland can make in your home with CanShine.
Sherry Kallergis
2022-09-05
This company has done an amazing job stripping and waxing the vinyl tile floors in my home twice. The gentlemen were pleasant, did an excellent job cleaning the old wax right up to the baseboards, cleaned up after themselves, and made my floors shine. Thank you.
Deepesh Gurung
2019-08-11
Good
They are all very nice kind people and did the job with great attention to details. My floor looks like new now!! Thanks guys! Highly recommended
Best cleaning service in bc Canada ... great experience ...
babul chodhuary
2018-10-02
This is a very good cleaning company. The workers are very hard working and can get their jobs done correctly. I strongly recommend this company!!!
Maninder s Chawla
2018-08-28
I called for detailing and floor waxing for my store. There representative come and give many option for cleaning and waxing. They give me good price and done the Awesome Job. I recommend to every one.
Get Expert Home Cleaning Services in Lower Mainland
Don't wait; experience the difference today with CanShine, the best cleaning service in Lower Mainland – Book your cleaning now!
Type of CanShine
Cleaning Services
At CanShine, we offer various services to meet different cleaning needs. We ensure you receive excellent cleaning services from the premier Lower Mainland cleaning company.
Restaurant Cleaning

Schools Cleaning

Office Cleaning

Day Care Cleaning

Nightclubs & Bars

Healthcare Facilities

Kitchen Cleaning

Window Washing
Ready to experience the best cleaning services in Lower Mainland? Reach out to CanShine, your trusted Lower Mainland cleaning service provider, today to schedule your service!