Move Out Cleaning Vancouver
Move out cleaning in Vancouver to ease your transition
Shifting from one house to another is a big task. There's so much that you need to do. A lot of people say that moving is one of the most exhausting and stressful life experiences. You need to do way more than you can handle. You need to get your things in order, change your address, pack your dishes, declutter the garage, book packers and schedule transportation, and a lot more. Perhaps the last thing that you have time for is cleaning.
CanShine Cleaning handles move out cleaning in Vancouver to ensure that it is the last thing you need to hassle about.
A thorough and deep cleaning before you move out is beneficial. If you're staying on rent, cleaning is vital to get back the security deposit and in the case of it being your own house, you need to leave it clean for it to sell.
The need for experts is highly recommended for move out cleaning in Vancouver. Handling the job on your own would mean a lot of pressure, a lot of errors, and a waste of time. CanShine Cleaning efficiently removes the burden of pre and post move cleaning from your to-do-list. Naturally, moving is an extremely messy task. But with our skilled and trained professionals, you can rest assured since the house you're leaving will be spotless and sparkling.
Move out cleaning in Vancouver
As the day to move out nears, the rooms are empty (or nearly empty), the dust and stains from under the furniture and other areas are visible. This means that it is time to make your apartment look absolutely clean and even better than what it did when you first stepped in.
Some of the services that we take care of when you book for a move out cleaning are as follows:
Vacuum cleaning and sweeping of all floors
Cleaning baseboards
Scrubbing bathtubs and showers
Scrubbing toilet seats
Cleaning countertops and sinks
Cleaning kitchen appliances
Dusting all surfaces
CanShine Cleaning takes care of most of the things you want to clean before leaving the place. We handle the move out cleaning as you prepare to move into your next apartment.
Let us take care of the cleaning
With the services of CanShine Cleaning, you can enjoy your move. Our skilled and trained professionals know which equipment to use where and utilize the right cleaning practices to leave your apartment spick and span.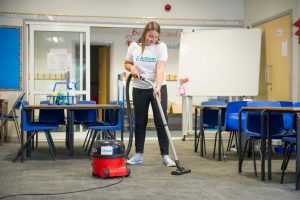 How does move out cleaning in Vancouver help?
Prepare your space for the next tenant
Property owners must ensure that their house or apartment is clean and fresh. This helps to attract tenants and demand top rental value. No tenant wants to live in a house that is dirty and shabby. After all, the house reflects the image of the people living in it. Move out cleaning in Vancouver helps to leave the house in a condition that you can show to new tenants or the next buyers without having to hide any areas or cut corners because of footprints all over the floor.
Leave the apartment as you found it
We all generally like to keep our houses clean but when you prepare to leave, you see what state it actually is in. With all the furniture lifted, the picture frames removed, the bits and pieces packed in boxes and the rooms nearly empty, you suddenly get to observe the hidden stains, disguised dirt, cobwebs, and layers of dust. You obviously don't have the time to clean all of this mess before you leave and that is why you need to call for a professional move out cleaning in Vancouver.
Once you are done with the move out cleaning, you need assistance with move-in cleaning. You want to enter a house that is sparkling clean. Moving in is like a fresh start to your life and if you're moving into an apartment that was previously rented by tenants, you need to ensure that it is disinfected and cleaned as per your comfort. You really wouldn't want to clean up someone else's mess, right? You should enjoy a celebratory meal with a glass of wine on the first day in your new house instead of scrubbing the bathtub and cleaning the floors.